Frequently Asked Questions
Below are some of the most frequently asked questions about Curamoria Collection hotels. If you have any additional questions or you need help regarding an upcoming accommodation in one of our resorts in Mexico, do not hesitate to contact us.
Reservations
I am trying to book and a message appears saying that the number of people does not fit in any of the rooms available. What does this mean?
A room can accommodate a maximum of 4 people; this can be 2 adults and 2 children under 12 years old or 3 adults and one under 12 years. If the reservation system sends you this message, please add more rooms to your reservation and distribute the number of people selected among them. It is important to mention that we have hotels that are for adults only and the maximum occupation is 3 adults. The minimum age allowed in these hotels is 18 years old.
How can I know if the rate that the website offers me is the lowest rate guarantee?
All rooms booked on our website have the lowest rate guarantee. Rest assured that the rate shown on our website is the lowest you can find on the selected dates. If not, we will give you a 25% discount. For more information, see the policies of here. https://www.curamoria.com/en/terms-conditions.
I found a lower fee at a travel agency, Central Reservations or other third-party website. How can I claim my 25% discount?
Step 1
Check that comparative rates are for the same room, hotel, dates, number of guests, currency and have the same reservation, modification and cancellation policies. The guarantee does not apply when a promotion or package is being compared, they must be public rates and only for that hotel.
Step 2
In order to apply your warranty you need to have previously attempted the reservation process on the Posadas website in order to check and compare the lowest rate found on another channel. You must copy the images showing the lowest rate found on another website. Grupo Posadas is not responsible for cancellation policies or modifications on other sites, if you make your reservation on another website and your warranty is not approved, the company will not be responsible for cancellation charges or reimbursements.
Step 3
Once the previous steps have been taken, send your claim to sclientes@pasados.com and within 24 hours one of our agents will contact you to follow up on your case.
Important
Remember that you must send it within 24 hours after performing and confirming a reservation through a Grupo Posadas website, as long as it is before 48 hours of the scheduled arrival. It does not include reservations that were object of modification or cancellation.
The guarantee may not be applied with the service providers known as "opaque" (those sites that do not show the name of the property to the confirmation or payment), such as Hotwire.com, Priceline.com, etc.
I have completed the reservation process, what should I do now?
From the moment your confirmation number is displayed on your screen and is sent by email, you can be assured that your reservation is registered in our system. We suggest you save your reservation information for your records.
My travel plans have changed. How can I cancel or modify my online reservation?
In the "Manage your reservation" section you can make the adjustments that you need, based on the change and cancellation policies in place.
Can I generate a reservation if I do not have a credit card?
Usually, it is possible to reserve the room for 24 hours and then finish the process by entering your credit card data. In case you do not have one, you can coordinate with our reservation center to reserve a room with a time limit. This is a period of time that is granted to allow you time to make a reservation through a deposit or an interbank transfer.
What is the minimum age to check in?
You must be of legal age to make a reservation.
When booking, my personal information is requested. How will it be used?
The information you provide us will only be used to guarantee and record your reservation, or to contact you in case of an unforeseen issue. If you choose to receive our newsletter, we will use your data to periodically send you promotions and / or articles of interest. You may request to stop receiving this newsletter at any time.
Payment
Is it safe to provide my card number when booking?
Yes, the data provided on our site is stored on our server through a secure or "encrypted" connection. This means that it is inaccessible from the Internet and that no one can intercept the transmitted information.
Is my credit card charged when confirming the reservation?
The card you enter at the time of generating the reservation is a guarantee; payment is made directly at the hotel.
Can you charge the price of the room to the card I left as collateral?
Due to the Law on Protection and Management of Confidential Information, only the penalty fee is allowed. Any additional charge must be made directly at the hotel or through a deposit.
What methods of payment do the hotel accept?
Credit or debit cards, cash, deposit and interbank transfers.
Why did the hotel charge my card before my arrival?
On some occasions hotels can make a preauthorization of your card. However, it is not a specified charge. When booking for our sales channels, the payment is made directly on the property.
Page
I'm not sure if they have a hotel at the destination I'm traveling to. Where can I find out?
On the Destinations tab you can determine where are hotels are located.
How can I determine the exact location of a hotel?
When selecting a specific hotel you can find this information under the photo of the property; there will be a map. This information is also on the location page.
Where can I find the phone number and fax for a hotel?
When searching for a specific hotel you will be presented with all of the information for a given property, including the phone number and fax number.
What kind of information and services can I get from your online help section?
Our team may assist you with any questions you have on this website about reservations, information regarding our hotels and booking.
I'm trying to get personalized help online but nothing appears. Am I doing something wrong?
Check that your Internet browser (Internet Explorer, Safari, Firefox, etc.) is not blocking "pop-ups" or pop-up windows. If so, deactivate this function momentarily in the "Internet Options" section of your browser.
How can I enroll the Fiesta Rewards Program?
Click on the Fiesta Rewards tab or type in www.fiestarewards.com ; there you will find the necessary information to register, or if you wish you can also call (01 800) 504 5000 where one of our team will help you complete your registration.
Is it possible to check my Fiesta Reward points online?
Yes, on www.fiestarewards.com you can find complete information about our rewards program and the use of your points.
Is it possible to make reservations with a fee agreement on your site?
Yes, on the main page at the bottom you will find a list called Other Sections; under Agreements, you can generate your reservation.
Service
Is it necessary to make restaurant reservations before my arrival?
It is not typically necessary, because many of our restaurants are first come first served. A reservation required in some restaurants; however, the Concierge at the hotel can help you with a reservation upon arrival.
What does the All-Inclusive package include?
It includes room rental, taxes, food, beverages, room service, products in the mini bar and tips. Not included: spa, motorized activities, premium food and beverages.
Are pets allowed?
Our hotels only accept guide dogs. You must present accrediting documentation when you arrive.
Do your have business agreements?
We have two types of agreement:
Corporate Convention: You must reserve 200 bedrooms per month, spread over at least 10 hotels. This agreement is at the national level for all properties and is managed through an account executive.
Local agreement: You must reserve 200 bedrooms per month at the hotel of your choice. You must negotiate an agreement for each hotel for preferential rates and the negotiation is managed directly through the hotel's sales team.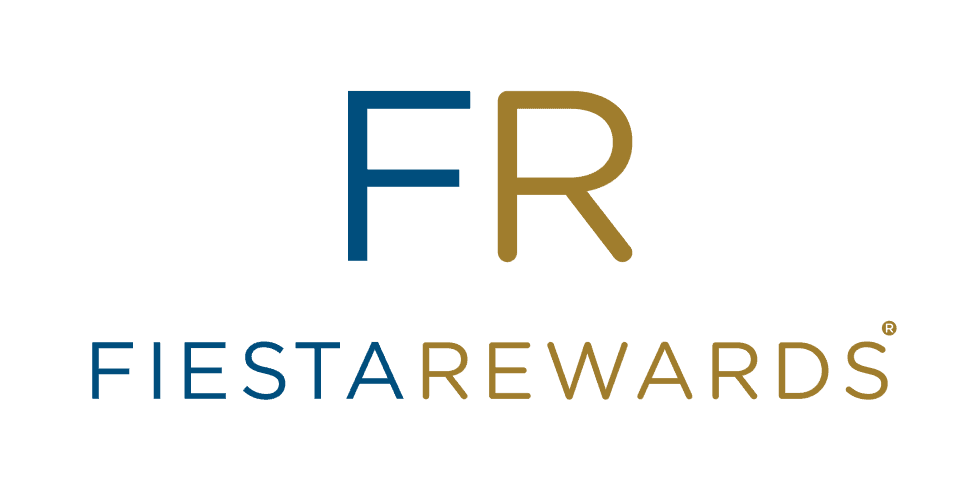 Fiesta Rewards
Embrace the excitement of the Fiesta Rewards experience at Curamoria Collection hotels. Give your trips a different meaning and be part of the only frequent traveler program that really gets to know you.
Experience it at all our destinations, through our site, app, Fiesta Rewards line and Santander Fiesta Rewards.
Be part of Fiesta Rewards. Join here .