Enjoy our Mexican Independence Day saving up to 50% + up to 30% extra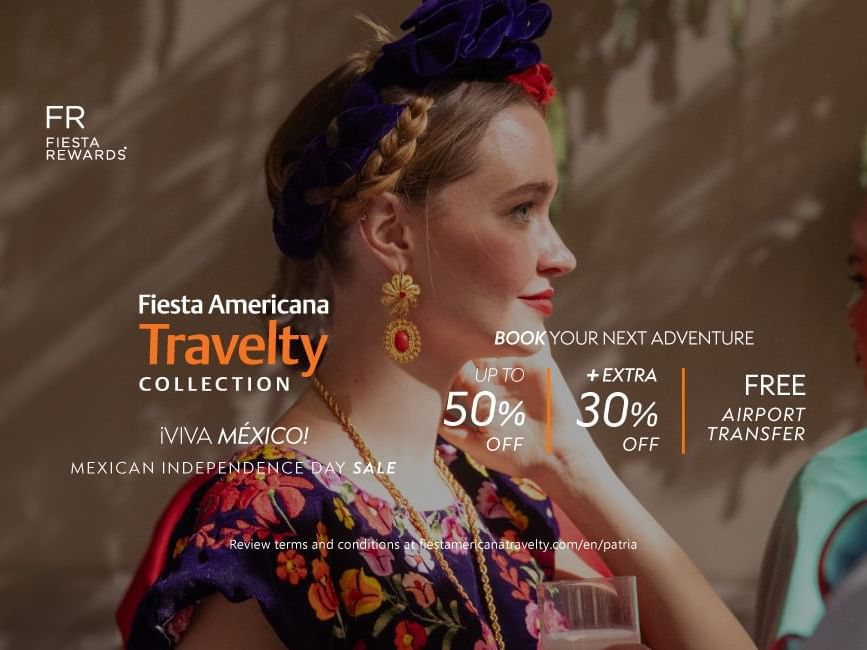 Enjoy with us the luxury and comfort you deserve in the best city hotels and haciendas in México saving up to 50% off on lodging + additional and exclusive discounts when booking on our websites:
• Up to 30% extra early booking bonus
• 25% off food and drinks at our city hotels. Not valid for breakfast
• Book now and pay when traveling!
Book now your next adventure taking advantage of our Mexican Independence Day Sale and shout with us ¡VIVA MÉXICO!
Enjoy more exclusive benefits when booking on our websites:
Live Aqua San Miguel de Allende
* 25% off in our Spa
* Free airport transfer when booking 4 nights or more. Learn more
Grand Fiesta Americana Puebla Angelópolis:
* Enjoy more time in your room with early check-in from 9:00 a.m. and late check-out until 4:00 p.m. Valid until December 31st, 2023
Grand Fiesta Americana Monterrey Valle:
* Buffet breakfast for 2 guests
* 15% discount on Spa treatments
Fiesta Americana Hacienda Galindo:
* 20% off at our Spa
Náay Tulum Curamoria Collection
* Up to 50% off on lodging
* American breakfast for 2 guests until November 30th, 2023
Offer valid on new bookings between September 1, 2023 through September 30, 2023. Traveling between September 1, 2023 through December 31, 2023
For more information, select a Property