Terms and Conditions
Agreement between the Client and Grupo Posadas S.A.B of C.V.
This website is offered to you, the client, subject to acceptance, without any modification, of the terms, conditions and notifications contained in this document. The use you make of this website constitutes your agreement to be subject to all the terms, conditions and notifications that are contained here.
Limitations for personal and non-commercial use
Grupo Posadas S.A.B of C.V. ("Posadas") gives you the permission to download the network, reproduce and retransmit the information published on the Posadas Internet Sites (including: Posadas.com, Fiestamericana.com, Fiestainn.com, Theexplorean.com, Favc.com, fiestarewards.com and those with the .com.mx extensions subject to acceptance of their part to undergo the following conditions:
1.- Copyright notifications and registered trademarks
All the content of this website is protected by Copyright © 2002 Grupo Posadas SAB de CV, as well as its subsidiaries, affiliates and / or suppliers, Av. Excengtion Paseo de la Reforma 1015, Apartment 9, Col. Santa Fe, delegation Álvaro Obregón, CP01210, Mexico, DF, Phone +5215553266700. All rights reserved.
The following brands and logos, and the names in the list below, Like associated brands, are registered trademarks that belong to Grupo Posadas S.A.B of C.V., to its subsidiaries and / or affiliates:
Live Aqua Resorts & Residence Club ®
Grand Fiesta Americana Hotels & Resorts ®
Fiesta Americana Hotels, Resorts & Suites ®
Fiesta Inn Business Class®
Fiesta Inn Express®
Gamma Hotels ®
The Explorean Kohunlich®
Fiesta Americana Vacation Club®
Fiesta Kids®
Fiesta Rewards®
Fiesta® Incentry Program
One Hotels®
The registered trademarks of Grupo Posadas can not be used or exhibited without prior written authorization from Grupo Posadas.
You can download the network, reproduce and retransmit information from Posadas only for non-commercial uses within your organization. You can not modify, copy, distribute, transmit, exhibit, play, reproduce, publish, grant license, create derivative works, transfer or sell any information, program, product or service that is in or obtained from this website.
You must keep and play each copyright notification or any type of property notification in the information of Posadas that lower the network, reproduce or retransmit.
With the exception of the above mentioned limited authorization, no license or copyright of permanent material, or anywhere else, is granted or conferred on you.
Posadas' Internet sites may contain or refer to trademarks, patents, trade secrets, technologies, products, processes or other rights owned by Posadas and / or other Parties. It is not awarded or conferred any license or right for such trademarks, patents, trade secrets, technologies, products, processes or other rights owned by Posadas and / or other Parties. Regarding brands, patents, trade secrets, technologies, products, processes or other rights owned by third parties, Posadas has concluded with them agreements for use, but are still registered trademarks and property rights of companies or respective people.
2.- Resolution to Responsibilities
We do not decide, we guarantee, we remember or make a pact that establishes that everything you find here is free of errors, complete or accurate. Neither us, nor the consultants of this site, will be considered responsible for direct, indirect, incidental, consequential, or punitive damages that result in accessing or using this site.
You agree that the use given to this site is at your own risk. The content and services provided by this site are provided ""in the state they are"". Grupo Posadas does not declare, guarantees or approves anything concerning the precision, reliability, utility or integrity of the content of this site or any place linked to it, nor does it declare that the site will be free of errors or viruses, nor uninterruptedly available. To the maximum degree that the Law allows, Grupo Posadas waives all the guarantees, express or implied, including but not limited to the guarantees implicit in the merchantability, convenience for a certain purpose or non-violation. Grupo Posadas does not guarantee that this site, or any site linked to it, nor that the server that provides it, is free of computer viruses.
Grupo Posadas strives, however, by maintaining the most up-to-date information in order to offer its clients / users the greatest possible tranquility in the use of such information and to make constant monitoring to servers for security verification.
3.- Limitation of liability
Grupo Posadas will not be liable for damages of any kind, including damages without limitation, special, incidental, indirect or consequential that arise from access to or inability to access this site, nor by use or dependence on this site nor its content, nor does it For any damage that results from the loss of use, data or utilities, whether or not it is warned of the possibility of such damage and by any theory of responsibility. In addition to the above, Grupo Posadas is not required to update the site, nor its content. It may not be considered responsible for non-compliance with the update of such content. Some States do not admit the exclusion of implicit guarantees, nor the limitation or exclusion of responsibility for incidental or consequential damages. However, if despite the exclusions contained in this Agreement, Grupo Posadas, and / or its subsidiaries and / or affiliates, is found responsible for damages or losses that result from or in some way is related to this Site, the responsibility of The company will not exceed the number of fees or charges paid by you to the company for the services and / or information in which such responsibility is found.
Information provided by Posadas can contain technical mistakes or typographical errors. Posadas reserves the right to make changes, corrections and / or improvements to Information Posé, and the products and programs described in the information without prior notice and at any time.
Posados ​​Internet sites contain information on performed products and services worldwide, which are not available in all locations. If a product or service is referred to on a product or service, it will not be assumed that such a product or service will be available in your location.
4.- RESIDENCE TO ELECTRONIC LIABILITY
Grupo Posadas S.A.B of C.V. and its affiliates, subsidiaries, and other related entities, and each of its officers, directors, agents and employees will not be held responsible for the following: decomposures, faults, delays or difficulties in telephones, electrical and electronic devices, the network, the Internet , Computers or Computer Components or Computer Programs. Nor will they be considered responsible for mail, email, sending forms, connections, messages or information captures that have been delayed, lost, theft, or anything of the above if they are illegible, incomplete, confusing, poorly directed, mutilated or with Insufficient porte, nor for the safety of any of the aforementioned cases.
Likewise, Grupo Posadas S.A.B of C.V. and its affiliates, subsidiaries, and other related entities, and each of its officers, directors, agents and employees will not be held responsible for erroneous capture or inaccurate information, whether caused by Internet users or by a team element o Programming associated with, or used on the site or by a technical or human error that may occur during the processing of information related to this site.
If for some reason a certain part of the site does not work as it should include the case of computer virus infection, errors, unauthorized intervention, fraud, technical failures or any other cause that exceeds the reasonable control of the Posadas Group, which corrupt o Afgasion Administration, Safety, Equity, Integrity or Proper Driving of this Site, Grupo Posadas reserves the right (but not the obligation) at the discretion of prohibiting any individual (including the information of the individual) to use the Site and may also Cancel, finich, modify or suspend the site or any portion of the site and cancel such information.
Users also accept that Grupo Posadas S.A.B of C.V. and its affiliates, subsidiaries and other related entities including each of its officers, directors, agents and employees will not be responsible or guilty in any way due to damage, losses or prejudice to the individual's computer that captures information, nor from interception o Use of credit card information that is related to the use of the site, or any sites, services or ligated AO materials related to the use of ""tests"" or authentic reservation mechanisms at any time. Nor will it be responsible or guilty in any way due to damages, losses, claims or related losses that result from this site, nor from the reservation mechanism, whether they operate or not on computers or networks used by the individual by capturing information or communicating with Such computers or networks.
5.- Use of the website
The group reservations element in Posadas S.A.B of C.V. From this website it is provided solely to assist customers to determine the availability of travel goods and services, and to make legitimate reservations, excluding any other purpose. You guarantee that you are at least 18 years of age and who owns the legal authority to establish this agreement and use this website according to all the terms and conditions contained herein. You assume the financial responsibility for the use that gives this website (as well as the use of your account by third parties, including, more not limited to, minors who live with you). Accept supervising the use of this website by minors using your name or account number. You also guarantee that all information provided by you or by members of your family by using this website is true and correct, without limitation, and without false or fraudulent reservations. You agree that the faculty to make reservations on this website will be used only to make legitimate reservations or purchases for you or for another person who has legally authorized you to act in your favor. You understand that excessive use or abuse of the faculty of reservations on this website may result in access to such faculty.
In the case of reservations or other services that may be subject to a fee, you agree to be governed by the Terms and Conditions Taxes for the purchase, including more not limited to, the payment of all quantities due in compliance with the rules and restrictions applicable to the availability of rates, products or services. You will be fully responsible for charges, installments, tariffs, taxes and appraisal that result from the use of this website.
6.- Delivery of information
When you give information to Grupo Posadas through the use of this site, including more not limited to, ways to register, feedback, questions, comments, suggestions and other similar cases, consequently you: (a) declares and guarantee that such information is complete, truthful and accurate, and that you have all the rights of such information, which is your own original and unpublished work, and that it is not based on or in part on any pre-existing work or work of another person, who does not violate or transgress any right of property, trademark, brand name, service mark, nor any other written law or common law, nor any personal or property rights or interest, that this information is not abusive, obscene, profane, sexually explicit, threatening or illegal, and agree to indemnify, defend and exonerate from liability to Grupo Posadas from and against any type of claim of this nature, and accept RENU ninte and yield all rights to and ownership of any information, (b) recognizes that you (non-GRUPO Posadas) is solely responsible for any damage resulting from the transgression of property rights, copyright or any other damage that results from have delivered this information and the subsequent use given by group Posés to the information; and (c) automatically grant Grupo Posadas the Law and World License, free of royalties, exclusive to use, reproduce, publish, distribute or exhibit such information (entirely or partially, through any means now known and used, or Known and used in a future, in perpetuity), although you acknowledge that Grupo Posadas is not obliged to use, reproduce, publish, distribute or display the information. Likewise, Grupo Posadas reserves the right to monitor and review transmissions, use and information related to such use to ensure that GRUPO POSADOS policies are fulfilled, and as a clause necessary to provide this Site and / or protect rights and group properties. Posadas Grupo Posadas may also monitor and review stored transmissions without any restriction, and by this means you recognize and grant your consent to such monitoring. Grupo Posadas knows the secret keys of access.
Posadas is in full freedom to use ideas, concepts, knowledge or techniques contained in their communications for any purpose, including more not limited to, the development, production and / or marketing of products and services that incorporate such information.
7.- Links to third-party sites
This website may contain leagues (hyperlinks) to websites operated by third parties that are not from GRUPO Posadas S.A.B of C.V. Such leagues are provided as reference only. Grupo Posadas S.A.B of C.V. It does not control these websites, and do not assume responsibility for its content. The inclusion of hyperlinks to such websites does not imply the approval of the material contained in such websites, nor any association with its operators.
8.- Currency Conversion
Conversion rates are based on information provided by a hired company for this purpose, and should be used as guidelines only. Room rates are guaranteed only in the currency provided by the site of reservation of the sites. Currency quotes are updated online with provider's information. The currency information provided to this website is believed to be accurate, but Grupo Posadas S.A.B of C.V. and / or its subsidiaries and affiliates do not support such precision.
9.- Climate
Climate information is based on information provided by third parties. It is believed that climate information provided to this website is reliable, but C.V Posadas S.A.B. and / or its subsidiaries and affiliates do not support such precision.
10.- No illegal or prohibited use
As a condition for the use of this website, you manifest that you will not use it for any illegal or prohibited purpose in accordance with the terms and conditions contained herein.
11.- Changes to the Agreement
Grupo Posadas S.A.B of C.V. reserves the right to change this Agreement at any time without prior notification; Such changes will take effect immediately. By using, observing, transmitting, hiding, storing and / or using this site in any case and / or its content, you have agreed to accept each and every one of the terms and conditions described in this Agreement, renounces any right to claim existence of ambiguities or errors in this Agreement. If you do not accept this agreement, do not use the site. Please print and retain a copy of this agreement.
12.- General
Any claim related to this Agreement or the materials contained therein will be governed by the laws in force in the United Mexican States and PROFECO (https://www.gob.mx/profeco). This Declaration includes the agreement in its entirety between the parties with respect to the topic in question, and invalidates all oral and written agreements prior to it. Therefore, no delay or lack of part of Group Posadas S.A.B of C.V. In the exercise of any right or remedy, in accordance with this, or imposition of the terms and conditions of this Agreement may be used as a resignation. If any part or arrangement of this agreement was invalid, not applicable or null, the remaining portion will remain in full force and effect. The headers contained in this Agreement are used merely by reading convenience and will not be used in the interpretation of the Agreement.
You agree that no joint venture relationship, society, employment, or agency relationship exists between you and Grupo Posadas S.A.B of C.V. as a result of this agreement or use of this website.
Fictitious names of companies, products, persons, characters, and / or data mentioned in this document are not intended to represent an individual, company, product or real event.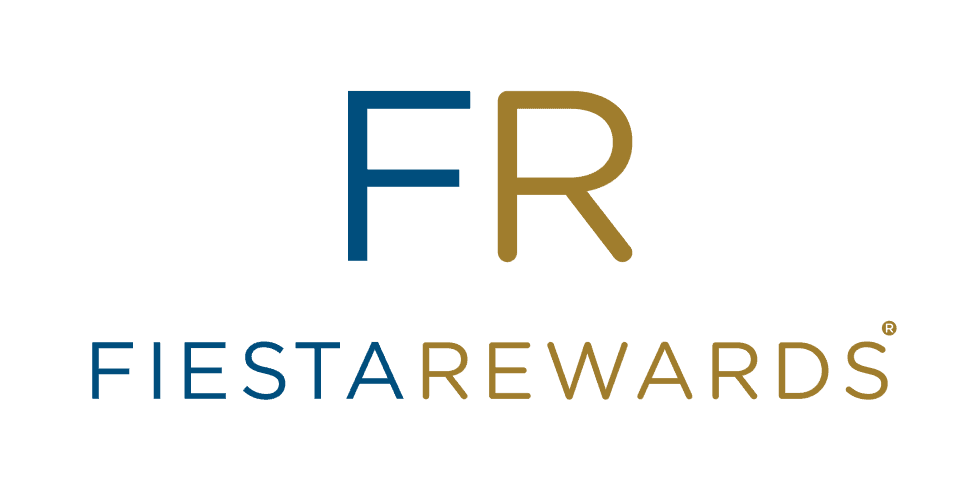 Fiesta Rewards
Embrace the excitement of the Fiesta Rewards experience at Curamoria Collection hotels. Give your trips a different meaning and be part of the only frequent traveler program that really gets to know you.
Experience it at all our destinations, through our site, app, Fiesta Rewards line and Santander Fiesta Rewards.
Be part of Fiesta Rewards. Join here .